---
Changing Places Toilets
Changing Places toilets are designed to meet the requirements of people with complex care needs.
The absence of suitable toilets means that people with complex disabilities who need assistance cannot take part in activities. These activities include shopping, going out for a meal or attending a sporting event. Without a suitable changing bench and hoist, many people with complex needs have to be laid on unhygienic toilet floors or become trapped in their own homes.
Detailed guidance relating to the provision and design of Changing Places toilets was included for the first time in the 2009 edition of BS 8300 "Design of buildings and their approaches to meet the needs of disabled people – code of practice".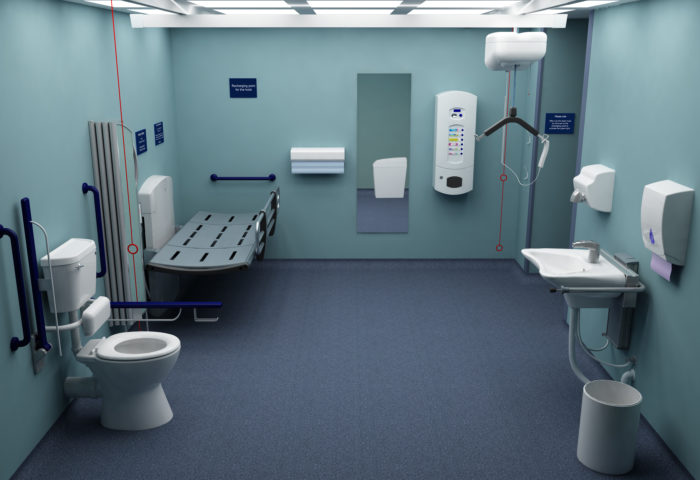 Provision should include:
adequate space for a disabled person, their wheelchair, and one/two carers – 12sqm (3m x 4m)
an adult sized, height adjustable changing bench, wall mounted or free standing
a ceiling tracking or a mobile hoist
a peninsular (centrally placed) toilet
a privacy screen or curtain
a large bin for pads
an emergency alarm
a paper roll
a non slip floor
We can install these cubicles as modular buildings, in to new buildings and even retrofit them into existing structures. We'll work with you to examine the best option for your community, whether that's putting the toilet in to a refurbished building, a new building or another option altogether. Our bespoke service means we work with you to establish the best option.
Get in touch today, to find out more information by visiting our Contact Us page.
---
Downloads
This drawing shows a Changing Places cubicle with no service area. This would be ideal where there is an adjacent facility where cleaning materials can be stored.
This drawing shows a Changing Places cubicle with a service area included that could be used to store cleaning materials etc.
This drawing shows a Changing Places cubicle that has additional accessible and unisex cubicles as well, as part of a larger project.